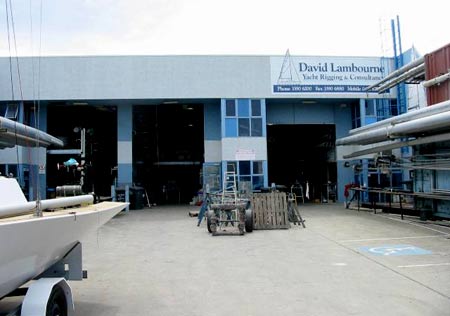 Background
David Lambourne Yacht Rigging was established by David Lambourne on the 19th November, 1994. After 12 yrs working in the industry, Dave knew it should be done better and set out to do just that. With years of sailing in dinghies, skiffs and then yachts, he knew what people needed in the way of information and assistance. From a humble beginnings working from home, with the help and patience of his wife Sharon, together they have managed to build a reputation as the most reliable and innovative Yacht Brisbane mast builders and riggers in the country. Dave grew up with a strong family and work ethic and his parents and family are all well established boating and business people. His father, Howard, sailed Dragons when Dave was a young lad and when Dave was racing 18ft skiffs, was always following the fleet in the family cruiser. Today he still enjoys close racing in his 8mtr sportboat "Skreencraft" and it's hard to get Dave off the helm.




Present
David Lambourne Yacht Rigging & Consultancy is a Proprietary Limited Company, registered in Queensland, with David and Sharon Lambourne as the Directors.
Recent investment in dies and tooling has seen the Company take a place as the Premier supplier of Masts and Rigging in Australia.
The premises at Porter Street in Hemmant have been the cauldron of many varied and interesting projects. Dave and his Family own the buildings and with the use of shipping containers to form a spray booth and permit extra storage for the vast amounts of extrusion and new equipment, the capacity of what originally seemed to be limited facilities, has been extended to cater for the increased volume in sales over the past couple of years.
The training of new staff and addition of the latest swaging and profile cutting equipment will ensure the competitiveness and reliability continues to develop.


Product Policy
Since the inception of the Company, the goal has always been to do it better.
With this simple thought in mind, we have undertaken to create the most modern and reliable range of products and services in the Mast and Yacht Rigging industry today .

Strength – we shall never compromise the integrity of the product
Reliability – quality materials and design shall ensure that any product we produce will live up to realistic life expectancy in the harsh marine environment.
Service- to meet the expectations of our customers within reasonable timeframes.
Quality and Value- to provide superior equipment at competitive prices.